How to Deal With a Rejection Letter?
Rejection… a word nobody likes to hear… Cambridge Dictionary defines it as "the act or process of rejecting someone or something." I define it as "the act of telling you that everything happens for a reason and that something bigger and better is on the horizon!" With days remaining before some of you hear back from your Early Action (EA) and Early Decision (ED) colleges, I find it very timely to write this blog post. As a person who likes to have a Plan B, I always prepare myself for the worst, so if and when the worst hits, I always have a backup plan. You should do the same to be able to not only preserve your sanity but also find the strength to move on should that much-dreaded decision arrive.
December 15th and onwards… a time in your life that you will never forget – one way or another… If accepted to your dream college, you will be ecstatic and ringing in the New Year with a huge relief! You will be done with the college application frenzy! If rejected, though, the Holiday Season might not be so jolly after all as it will mean more college applications to fill out and many more essays to write on top of a broken heart.
If your dream college has decided not to offer you a seat in their incoming class, there are many reasons behind that decision that do not have anything to do with you personally – that is, considering that you have qualified academically. You have a steady GPA with stellar extracurriculars, aced the SAT, and have spent the last four years of your life perfecting your groundbreaking scientific research. Was none this good enough for your dream college? The answer to this question is a little more complicated than what you would like to hear. All the hard work you put into your college planning and the application process did count for sure! All of that did qualify you to be eligible for consideration to say the least. However, what the rejection decision means is that there were too many qualified applicants than there were available seats! Look at the below chart to see the acceptance rates of the top 25 colleges for 2020, as announced by the U.S. News and World Report rankings.
Source: PrepScholar Blog
With such low acceptance rates as seen in the table above, being admitted to highly-selective colleges such as the Ivies and the Elites is like winning the lottery! Those colleges are what we call "reach" schools for every single applicant, so there is never any guarantee that a student will be admitted. If you are one of the many who have been rejected by their dream college, it is not the end of the world. There are things you can do to get through this. Here are my tried-and-true techniques for dealing with rejection:
Do not dwell on the reasons for rejection! You will never know what led to this decision because you were not a member of the Admissions Committee. There is no way you will ever know what happened behind the closed doors. Trying to find out the reason will not change anything. Even if you request an explanation for this rejection, no college will provide you with an answer. They do not have to… Unfortunately, there is no such thing as appealing a rejection letter.
Cry your heart out! At the age of 45, I still cannot handle rejection well. I have had countless rejections in different phases of my life, and I know it sucks! Before you are completely ready to move on, you need to take a little time off and deal with all those strong emotions. Cry, cry, and then cry some more… Let those tears come out for a day or two… You have done everything to the best of your ability, so it hurts… A LOT… Cry yourself to sleep… Cry until you cannot… Trust me; that will be the only closure you will need and the only one that will help you move on.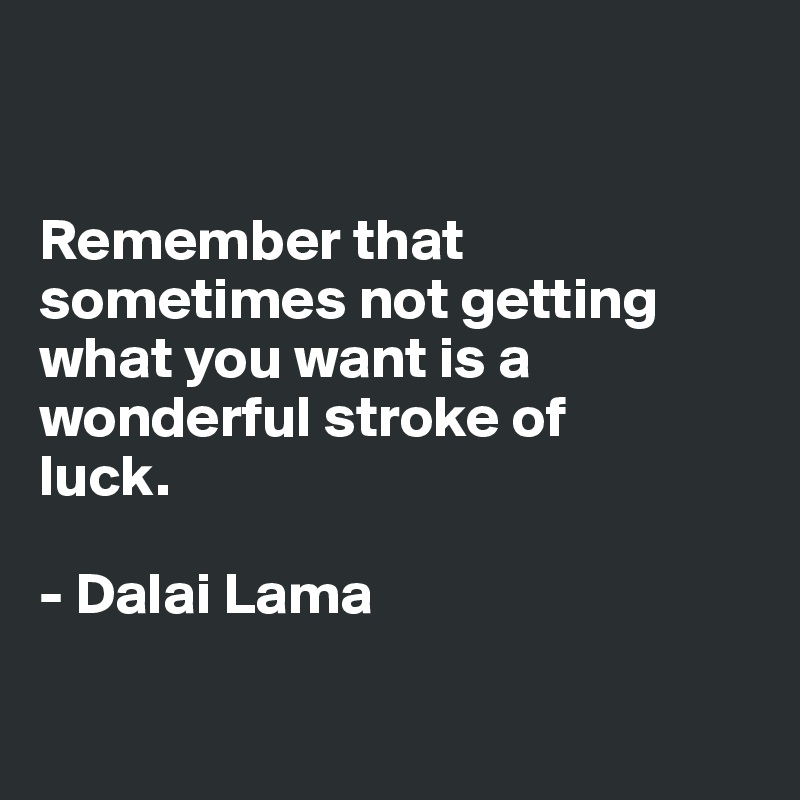 Regroup and refocus! At this point, I strongly advise that you spend your precious time on your remaining applications. The college application season is not over yet. There are over 4,200 colleges and universities, one of which will definitely be the one you will call home during the next four years. Talk to your High School Guidance Counselor or your Independent Educational Consultant (if you are lucky to have one).
Love your college list! Go over your college list for one final time. Are you in love with every single one of the colleges on your list? Do you see yourself happily thriving even at your safety school? If your answer is, "No," then reconsider your list. Seek help from your Counselor and try to add a couple of last-minute safeties to your list. Love your list! Having that one college as your dream school might really be a dream after all! Treat all of the colleges you are applying to as your dream schools. Do not get caught up on the rankings and the acceptance rates. There is a college out there that will love you for who you are and that you will love for who they are. You will find it…
Move on! After hours of sobbing and a quick revisit to your college list, you just need to move on. Literally… There is no time to be waisted… Focus on your Regular Decision (RD) applications before it is too late. If you can put the same energy and effort that you put into your EA/ED applications to your RD applications, the outcome will be pleasantly surprising.
Talk to that one person who believes in you no matter what! I had a former student whose heart was set on one of the Ivies. That was her dream school, so she applied ED. I still remember the day when she found out she was rejected… She called me and told me the news. She was devastated, helpless, and ready to quit. She lost all her self-confidence, which had taken her years to build. She was not crying… She felt indifferent and emotionless, which was even worse than crying. It was a signal that she was not going to move on. She said she was done applying to colleges, did not see herself as college material, and wanted to call it a day. I told her that I was not going to allow her to let her life go to waste just because of one rejection. She was a very promising student with ambition and grit. I told her that I was going to give her a couple of days to cry and then to move on because I still believed in her. I also told her that I was expecting to see her next batch of essays in three days. I could hear a little bit of relief in her weak voice at the end of our phone call because she knew that there was one person who still believed in her even when she did not. Find that person… Talk to him/her… Oh, you are wondering about my student? Well, she was accepted to another Ivy League university!
Do not ever forget that everyone has had their share of rejection at least once (if not more). Did you know that Warren Buffet was rejected by Harvard? Tina Fey, Tom Hanks, Steven Spielberg (yes!), and even Barack Obama got rejected by their dream colleges! I could give you a whole list of famous people who have dealt with rejections, but you can just google the names yourself. You are not the first and will not be the last to be rejected from a college… You are not alone… Life does go on… even after a rejection. More often than not, when one door closes, another one opens… You just need to look for that door… I assure you that it is waiting for you to open it… I am so proud of each and every one of you, and so should you!
At EdMission Possible, we guide our students in the right direction by making sure that they stay focused until the end of the college admissions season. If you feel like you could use a little more motivation or encouragement, call or e-mail us today to inquire about our college planning services.
Good luck with the rest of your applications!
Warmly,
Burcak Deniz Cakir
Founder and President | EdMission Possible
Phone: +1(732)640-5550
E-mail: bdcakir@EdMissionPossible.com
Burcak Deniz Cakir has a B.A. in Foreign Language Education, an M.A. in English Language Teaching, and an M.B.A., all of which have laid the solid foundation for her professional experiences as an educator. She has completed the College Counseling Program at UCLA, which is known to be the most prestigious certificate program in the profession. She has previously taught English as a Foreign/Second Language (EFL/ESL) in Turkey and in the U.S. at Virginia Tech, Harcum College, Rutgers University (Newark and New Brunswick Campuses), and Pace University. Having taught EFL/ESL at the college level for over 20 years, Burcak can communicate effectively with college-age students from different countries. She is bilingual in Turkish and English. Her extensive experience with international students from many countries including but not limited to Turkey, Saudi Arabia, Korea, and China has given her the opportunity to understand their unique problems that domestic students may not be facing throughout the college admissions process, such as but not limited to extra testing requirements (TOEFL, IELTS), the translation of high school transcripts and recommendation letters, different financial forms and statements required, visa issues, being homesick, culture shock, etc.
Burcak is an Associate Member of the Independent Educational Consultants Association (IECA) and a Voting Member of the International Association for College Admission Counseling (IACAC). She currently lives in Edison, New Jersey with her husband, two daughters, and her four-legged son. In her free time, she can be found spending time with her family, reading (lots!) about college admissions and college essays, watching her favorite movies, getting lost in design magazines, and decorating her house.